Is amazing "... to the praise of his glory" Ep 1.12:
in order that we, who were the first to put our hope in Christ, might be for the praise of his glory.(Ep, 1,12)
15 aprile 2014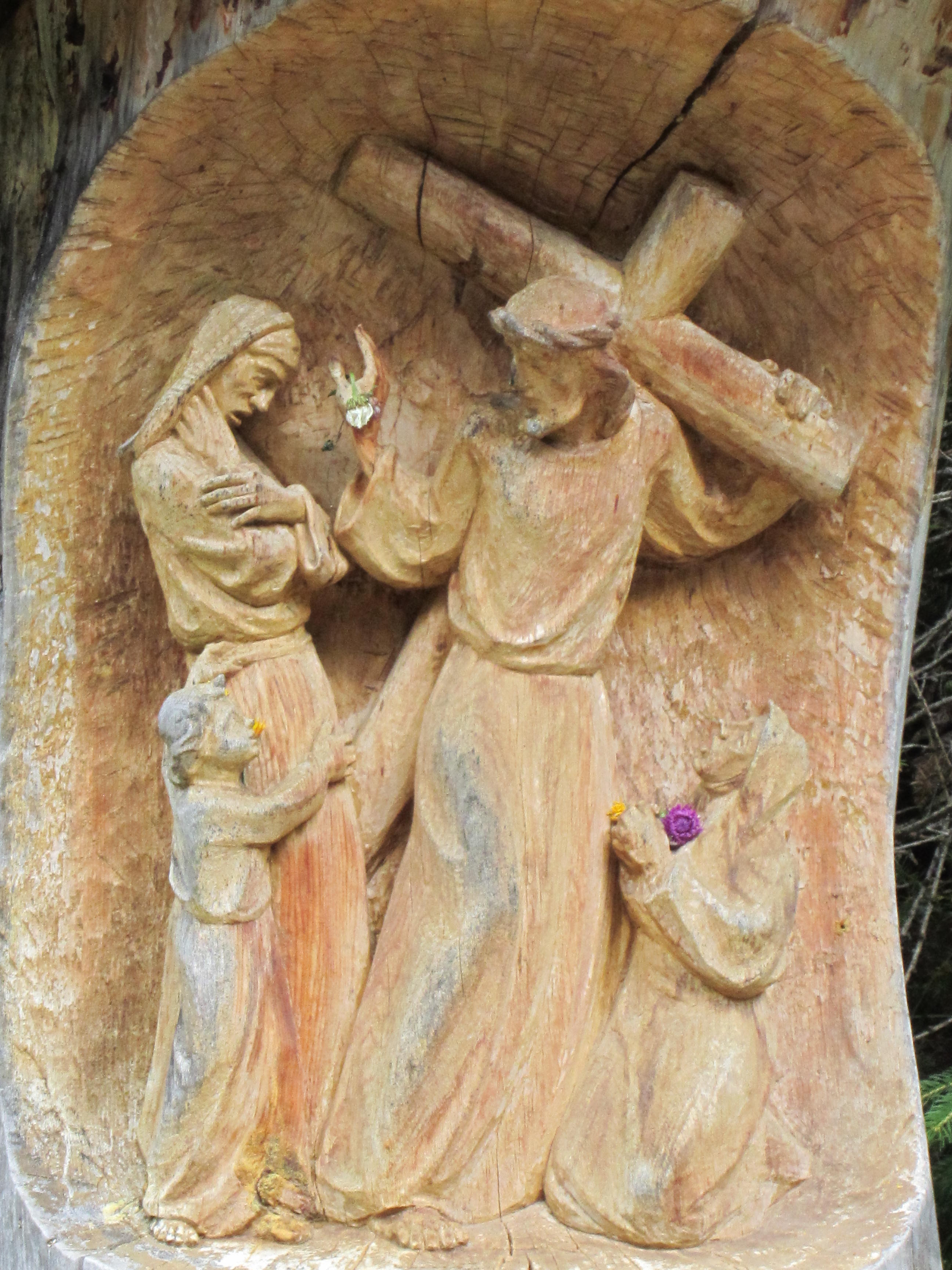 http://www.almondburywithfarnleytyasteamparish.btck.co.uk/FollowtheWayoftheCross/JesusspeakstothewomenofJerusalem
PILGRIMAGE OF HIS HOLINESS BENEDICT XVI TO THE HOLY LAND (8-15 MAY 2009)
HOLY MASS
HOMILY OF HIS HOLINESS BENEDICT XVI
Josafat Valley - Jerusalem
Tuesday, 12 May 2009
Dear Brothers and Sisters in the Lord,
"Christ is risen, alleluia!" With these words I greet you with immense affection. I thank Patriarch Fouad Twal for his words of welcome on your behalf, and before all else I express my joy at being able to celebrate this Eucharist with you, the Church in Jerusalem. We are gathered beneath the Mount of Olives, where our Lord prayed and suffered, where he wept for love of this City and the desire that it should know "the path to peace" (Lk 19:42), and whence he returned to the Father, giving his final earthly blessing to his disciples and to us. Today let us accept this blessing. He gives it in a special way to you, dear brothers and sisters, who stand in an unbroken line with those first disciples who encountered the Risen Lord in the breaking of the bread, those who experienced the outpouring of the Spirit in the Upper Room and those who were converted by the preaching of Saint Peter and the other apostles. My greeting also goes to all those present, and in a special way to those faithful of the Holy Land who for various reasons were not able to be with us today.
As the Successor of Saint Peter, I have retraced his steps in order to proclaim the Risen Christ in your midst, to confirm you in the faith of your fathers, and to invoke upon you the consolation which is the gift of the Paraclete. Standing before you today, I wish to acknowledge the difficulties, the frustration, and the pain and suffering which so many of you have endured as a result of the conflicts which have afflicted these lands, and the bitter experiences of displacement which so many of your families have known and – God forbid – may yet know. I hope my presence here is a sign that you are not forgotten, that your persevering presence and witness are indeed precious in God's eyes and integral to the future of these lands. Precisely because of your deep roots in this land, your ancient and strong Christian culture, and your unwavering trust in God's promises, you, the Christians of the Holy Land, are called to serve not only as a beacon of faith to the universal Church, but also as a leaven of harmony, wisdom and equilibrium in the life of a society which has traditionally been, and continues to be, pluralistic, multiethnic and multireligious.
In today's second reading, the Apostle Paul tells the Colossians to "seek the things that are above, where Christ is seated at the right hand of God" (Col 3:1). His words resound with particular force here, beneath the Garden of Gethsemani, where Jesus accepted the chalice of suffering in complete obedience to the Father's will, and where, according to tradition, he ascended to the right hand of the Father to make perpetual intercession for us, the members of his Body. Saint Paul, the great herald of Christian hope, knew the cost of that hope, its price in suffering and persecution for the sake of the Gospel, yet he never wavered in his conviction that Christ's resurrection was the beginning of a new creation. As he tells us: "When Christ, who is your life, is revealed, you too will be revealed with him in glory!" (Col 3:4).
Paul's exhortation to "set our minds on the things that are above" must constantly echo in our hearts. His words point us to the fulfilment of faith's vision in that heavenly Jerusalem where, in fidelity to the ancient prophecies, God will wipe away the tears from every eye, and prepare a banquet of salvation for all peoples (cf. Is 25:6-8; Rev 21:2-4).
This is the hope, this the vision, which inspires all who love this earthly Jerusalem to see her as a prophecy and promise of that universal reconciliation and peace which God desires for the whole human family. Sadly, beneath the walls of this same City, we are also led to consider how far our world is from the complete fulfilment of that prophecy and promise. In this Holy City where life conquered death, where the Spirit was poured out as the first-fruits of the new creation, hope continues to battle despair, frustration and cynicism, while the peace which is God's gift and call continues to be threatened by selfishness, conflict, division and the burden of past wrongs. For this reason, the Christian community in this City which beheld the resurrection of Christ and the outpouring of the Spirit must hold fast all the more to the hope bestowed by the Gospel, cherishing the pledge of Christ's definitive victory over sin and death, bearing witness to the power of forgiveness, and showing forth the Church's deepest nature as the sign and sacrament of a humanity reconciled, renewed and made one in Christ, the new Adam.
Gathered beneath the walls of this city, sacred to the followers of three great religions, how can we not turn our thoughts to Jerusalem's universal vocation? Heralded by the prophets, this vocation also emerges as an indisputable fact, a reality irrevocably grounded in the complex history of this city and its people. Jews, Muslims and Christians alike call this city their spiritual home. How much needs to be done to make it truly a "city of peace" for all peoples, where all can come in pilgrimage in search of God, and hear his voice, "a voice which speaks of peace" (cf. Ps 85:8)!
Jerusalem, in fact, has always been a city whose streets echo with different languages, whose stones are trod by people of every race and tongue, whose walls are a symbol of God's provident care for the whole human family. As a microcosm of our globalized world, this City, if it is to live up to its universal vocation, must be a place which teaches universality, respect for others, dialogue and mutual understanding; a place where prejudice, ignorance and the fear which fuels them, are overcome by honesty, integrity and the pursuit of peace. There should be no place within these walls for narrowness, discrimination, violence and injustice. Believers in a God of mercy – whether they identify themselves as Jews, Christians or Muslims – must be the first to promote this culture of reconciliation and peace, however painstakingly slow the process may be, and however burdensome the weight of past memories.
Here I would like to speak directly to the tragic reality – which cannot fail to be a source of concern to all who love this City and this land – of the departure of so many members of the Christian community in recent years. While understandable reasons lead many, especially the young, to emigrate, this decision brings in its wake a great cultural and spiritual impoverishment to the City. Today I wish to repeat what I have said on other occasions: in the Holy Land there is room for everyone! As I urge the authorities to respect, to support and to value the Christian presence here, I also wish to assure you of the solidarity, love and support of the whole Church and of the Holy See.
Dear friends, in the Gospel we have just heard, Saint Peter and Saint John run to the empty tomb, and John, we are told, "saw and believed" (Jn 20:8). Here in the Holy Land, with the eyes of faith, you, together with the pilgrims from throughout the world who throng its churches and shrines, are blessed to "see" the places hallowed by Christ's presence, his earthly ministry, his passion, death and resurrection, and the gift of his Holy Spirit. Here, like the Apostle Saint Thomas, you are granted the opportunity to "touch" the historical realities which underlie our confession of faith in the Son of God. My prayer for you today is that you continue, day by day, to "see and believe" in the signs of God's providence and unfailing mercy, to "hear" with renewed faith and hope the consoling words of the apostolic preaching, and to "touch" the sources of grace in the sacraments, and to incarnate for others their pledge of new beginnings, the freedom born of forgiveness, the interior light and peace which can bring healing and hope to even the darkest of human realities.
In the Church of the Holy Sepulchre, pilgrims in every century have venerated the stone which tradition tells us stood before the entrance to the tomb on the morning of Christ's resurrection. Let us return frequently to that empty tomb. There let us reaffirm our faith in the victory of life, and pray that every "heavy stone" that stands before the door of our hearts, blocking our complete surrender to the Lord in faith, hope and love, may be shattered by the power of the light and life which shone forth from Jerusalem to all the world that first Easter morn. Christ is risen, alleluia! He is truly risen, alleluia!
PUT CHRIST FIRST
Week of March 5, 2006
Bible Passages: Luke 9:57-62; 14:25:33.
Biblical Truth: Following Jesus is a costly decision that requires putting Him above everything and everyone else, including personal and family concerns.
Christ Above Personal Comfort: 9:57-58.
[57] As they were going along the road, someone said to Him, "I will follow You wherever You go." [58] And Jesus said to him, "The foxes have holes and the birds of the air have nests, but the Son of Man has nowhere to lay His head." [NASU]
[57-62] The structure of this passage is noteworthy. The familiar "rule of three" is employed by Luke in recording three conversations. There is an interchange of order: in the first conversation the inquirer initiates the conversation and Jesus states the objection; in the second this is reversed; in the third the man both initiates the dialogue and raises the objection, with Jesus adding a comment. Each dialogue contains some theological language: "Son of man" [58], "proclaim the kingdom of God" [60], "service in the kingdom of God" [62]. This shows that discipleship is not simply following Jesus in one's lifestyle but is involvement in the important work of the kingdom.
Any disciple who would follow Jesus needs to understand that this choice will require total commitment. In this passage, three would-be disciples clearly receive this message from Jesus. Since disciples will suffer rejection from the world, just as Jesus did, they need to place top priority on following Jesus. The individuals who converse with Jesus are not a focal point in the account, for there is no indication of their response. The point resides solely in Jesus' responses, which are given for the reader's reflection. This passage is significant because it shows that discipleship is not a fly-by-night affair. Discipleship requires that Jesus and the kingdom be the priority of life. The disciple is aware that allying oneself to Jesus sets one apart from the world and involves tackling tasks in a way that is different from the world. Jesus' response only reinforces the mood of urgency and commitment already present.
In terms of form, the account is a series of three pronouncements that are also warnings. Jesus' sayings dominate the account. Discipleship and the nature of mission are the key ideas. Discipleship must be seen in the context of Jesus being rejected. The cost of discipleship needs attention as one turns to mission. Disciples must place Jesus and the kingdom first. They must recognize that they will be distanced from the world by their discipleship, and that family matters may suffer inattention in comparison to their discipleship. Relative to each other, God comes before family. Disciples must not look back from their commitment to Jesus. It is a constant commitment.
[57-58] The first incident involves a volunteer who commits to follow Jesus wherever he may go. The man spoke with so much self-confidence because he had no inkling of the way of sorrows and death which the Lord would yet follow and also because he did not realize his own weakness and instability. In the Matthew 8:18-19 passage, the man offers to be Jesus' student and follow him. But Jesus wants more than a student. Students of Judaism lived with their teachers in order to learn the Torah, but what Jesus offers is a more compelling and dangerous course. To follow Jesus means more than sitting at his feet and learning Torah. It is a reorientation of life, involving suffering and perhaps death. If one is to go wherever Jesus goes, one must be ready for the rejection that he experienced. Jesus describes what disciples can expect when he is their example. His situation is worse than that of beasts. A disciple of Jesus must realize that following him means living as a stranger in the world, because a choice for Jesus is a choice rejected by many in the world. To be a disciple takes resolve. What is true of the suffering Son of Man is true of his disciples. To live "rejected" and "homeless" means to trust God and know that one's home is with him. There is a deep note of pathos in Jesus' remark. The disciple must realize that the choice to follow Jesus is not an easy one.
Christ Above Family Loyalty: 9:59-62; 14:25-26.
[59]And He said to another, "Follow Me." But he said, "Lord, permit me first to go and bury my father." [60] But He said to him, "Allow the dead to bury their own dead; but as for you, go and proclaim everywhere the kingdom of God." [61] Another also said, "I will follow You, Lord; but first permit me to say good-bye to those at home." [62] But Jesus said to him, "No one, after putting his hand to the plow and looking back, is fit for the kingdom of God." [14:25] Now large crowds were going along with Him; and He turned and said to them, [26] "If anyone comes to Me, and does not hate his own father and mother and wife and children and brothers and sisters, yes, and even his own life, he cannot be My disciple. [NASU]
[59-60] Jesus calls a second man to follow him. The request to bury his father seems reasonable, as this responsibility was one of the most important a family member could perform. Jesus' teaching often has a surprising twist to portray emphatically what God desires. The twist in this passage causes the reader to reflect on Jesus' reply. In refusing this request, Jesus describes a demand that is greater than this important familial responsibility, that is seemingly rooted in the commandment to honor one's parents. In fact, the remark may point to Jesus seeing himself as bringing in the new era. The man wanted to put commitment to family ahead of service to the kingdom. Jesus' response shows that his call has priority. Jesus' reply is designed by its stark character to show the extent of commitment that discipleship requires.
Jesus' statement Allow the dead to bury their own dead raises the question of how to interpret it. The problem of literalism versus rhetoric is raised because the dead can bury no one. It seems best to interpret it with the rhetorical meaning of "do not be excessively preoccupied with less important concerns." Nothing is to block the pursuit of discipleship and nothing is to postpone its start. In contrast to de-emphasizing familial responsibility comes the priority of doing the disciples' task: preaching the kingdom.
[61-62] Again we have what appears to be a reasonable request. Jesus replies in terms of what that volunteer's commitment really requires. One cannot follow after two things at once; following Jesus means making him the boundary of one's life. It is easy to miss what discipleship demands. Jesus makes sure this commitment is clear. The point is not so much to rebuke the would-be disciple for having deficient desire as to warn about what association with Jesus involves and to point out with rhetorical clarity the newness of times that Jesus brings. Jesus' reply is really a warning, since he sees a danger in the request. One may follow him initially, only to long for the old life later. If one is going to follow Jesus, one needs to keep following him and not look back. Once we commit to Jesus, we are to hold fast our confession. Perhaps in the desire to bid farewell, the heart never leaves the attachment to old values and the old way of life. It is this lack of a clean break that Jesus warns against here. To follow Jesus means to not look back to the way life was before one came to follow him. Good service requires undivided loyalty. Discipleship is not an emotional decision of one moment, but a walk of life.
The metaphor is proverbial. Just as one who ploughs must look before him and devote his full attention to his work so as not to plough a crooked and bad furrow, so also he who desires to be a member of Christ's kingdom should never allow other matters to distract his attention from his holy calling. For Jesus, discipleship is serious business and an all-consuming priority in terms of the constancy of one's allegiance. Family and home are prioritized in relation to one's relationship to God. The highest priority is God's kingdom. Everything else pales in comparison. The privilege and the seriousness of following Christ are of such tremendous magnitude that there is no room for excuse, for compromise with the world, or for half-heartedness.
[14:25-26] Verse 25 shows that Jesus' comments here were directed to the large crowds, not just the converted. Jesus wants those who are contemplating a relationship with him to know what it means. Jesus spares no one who claims to have a disciple's commitment. Faith, since it is trust in another, is essentially an entry into relational discipleship. Faith does not stop with decision; it commences. As with any relationship, faith is an ongoing affair. Beyond the decision comes the expression in action. This dynamic of faith, fundamental to its essence, is a key idea of New Testament theology. Faith is entry into relationship. Discipleship is fundamentally a call to allegiance. Jesus is to have first place over all, including family. The call to "hate" is not literal but rhetorical. Otherwise, Jesus' command to love one's neighbor as oneself as a summation of what God desires makes no sense [Luke 10:25-37]. The call to hate simply means to "love less" [see the parallel passage in Matthew 10:37]. The image is strong, but it is not a call to be insensitive or to leave all feeling behind. Following Jesus is to be the disciple's "first love." This pursuit is to have priority over any family member and one's own life, which means that other concerns are to take second place to following Jesus.
This saying needs to be set in the context of its first-century setting. At that time a Jewish person who made a choice for Jesus would alienate his or her family. If someone desired acceptance by family more than a relationship with God, one might never come to Jesus, given the rejection that would inevitably follow. In other words, there could be no casual devotion to Jesus in the first century. A decision for Christ marked a person and automatically came with a cost. If one does not make Jesus the first priority, one cannot be his disciple. The point is that only when one forsakes all others is one totally following Jesus, otherwise something else will have a greater pull on one's allegiances than Jesus does. One cannot "follow" Jesus and learn from him if other realities have a stronger pull. Jesus' call requires everything in terms of priority from the disciple. One who follows Jesus is led and instructed by him in the way to God. Such instruction and relationship is to have the first priority.
Christ Above Any Cost: 14:27-33.
[27] "Whoever does not carry his own cross and come after me cannot be My disciple. [28] For which one of you, when he wants to build a tower, does not first sit down and calculate the cost to see if he has enough to complete it? [29] Otherwise, when he has laid a foundation and is not able to finish, all who observe it begin to ridicule him, [30] saying, This man began to build and was not able to finish. [31] Or what king, when he sets out to meet another king in battle, will not first sit down and consider whether he is strong enough with ten thousand men to encounter the one coming against him with twenty thousand? [32] Or else, while the other is still far away, he sends a delegation and asks for terms of peace. [33] So then, none of you can be My disciple who does not give up all his own possessions. [NASU]
[27] As he declares what real discipleship means, Jesus has a second area of concern: one must be able to bear one's own cross. The process of discipleship is stressed here, not the decision to enter into it, since carry and come are both in the present tense. To carry means "to carry an object" or "to bear a burden". The same verb is used in John 19:17 where Jesus bore a cross as he marched to his death. To follow Jesus means to follow in suffering, for the world rejects the disciple. The figure of cross-bearing denotes a willingness to bear the pain of persecution as a result of following Jesus. It is another way to express willingness to "hate one's soul" in self-sacrifice. Come after me means to follow in someone's path; in the Old Testament, it referred to following after Yahweh or false gods. As such, it is an allusion to allegiance and obedience. The disciple is ready to share Jesus' fate of rejection by the world.
[28-30] Using a rhetorical question, Jesus presents the first of two pictures to illustrate what discipleship would involve: assessing the cost of building a tower before beginning construction. Before building, the wise person assesses the expense. One does not build the tower, despite its benefits, until one knows it is affordable and that it can be brought to completion. Sitting and calculating the cost means a reasoned assessment. The wise decision involves reflection, not reaction. So, Jesus suggests, should it be with discipleship: one should assess whether one is ready to take on the personal commitment and sacrifice required to follow Jesus. A graphic picture of the result of not counting the cost is that the project will not be completed. Such an error means the building will stand unfinished, as a monument to one's foolishness. Such is the danger for a disciple who does not assess what it means to follow Jesus. The failure is not God's, but the disciple's because of lack of commitment, resolve, and reflection. Public mocking underlines the failure to count the cost.
[31-32] Jesus supplies a second example about the importance of examining a situation and reflecting before acting. Moving from personal projects to political intrigue, he tells about a king deciding whether to go to war. The king assesses the cost of war before entering the battle. The example is in the form of a rhetorical question. So also the disciple should assess discipleship in preparing to follow Jesus. It is foolish not to consider what it will take to be a disciple. The wisdom of such assessment is seen in the king's response to being outnumbered. Rather than going to war, he asks for terms of peace. Jesus pictures the value of reflecting on becoming a disciple. To avoid an embarrassing and deadly outcome, one is to count the cost. Jesus uses the two different circumstances to illustrate his basic point: discipleship requires a conscious advance commitment, made with a realistic estimate of the ultimate personal cost.
[33] Discipleship is more than hating family or bearing a cross: one must also distance oneself from materialistic attachment to the world. A disciple's attachments are potentially the most destructive thing for discipleship. This verse expresses positively what is required, in contrast to the negatively formed statements of 14:26. Hating family and self equals renouncing all possessions, that is, all earthly attachments. The will to renounce all possessions and to ally oneself totally to Jesus is the essence of discipleship. Jesus is the one object of focus. If Jesus offers what he says he offers, then there can be no greater possession than following him. Jesus seeks to lead people in doing the Father's will, offering to the disciple the treasures of heaven. One is not really an effective, worthy disciple without this attitude. The one who comes to Jesus is to realize this standard. Jesus is not a minimalist when it comes to commitment. It is not how little one can give that is the question, but how much God deserves. The important thing is that whosoever desires to follow Him must be inwardly free from worldly-mindedness, covetousness and selfishness and wholly devoted to Him.
This is clearly a crucial verse. But does it mean that it is impossible to retain any possessions at all if one wants to be a true disciple? The key word is apotassetai ("give up"). When used of persons, the verb means to take leave of or say good-by to someone. When used of things, it means to give up or renounce. Here, in contrast to the cares of the rich young ruler [18:22], Jesus does not say a disciple should sell all his possessions and give everything away. His thought probably is that of abandonment of things, yielding up the right of ownership, rather than outright disposal of them. The disciple of Jesus may be given the use of things in trust, as a stewardship, but they are no longer his own. The present tense implies that what Jesus requires in relation to possessions is a continual attitude of abandonment.
Questions for Discussion:
1. What is Jesus teaching us about the nature of true discipleship in verses 9:57-62? Do you think Jesus means this for all of His followers or just for a certain group of believers (for example, pastors, missionaries, etc.)? Why do you think this? How does the way you answer that question affect the way you view your Christian life and service?
2. In 14:26, Jesus uses very strong language to indicate what is required to be His disciple. Reflect on your Christian life. To what degree is this verse true about the way you live? What changes in the way you think and live do you need to make in order for Christ to be the highest priority in your life?
3. In verses 14:27-33, Jesus is emphasizing the importance of having perspective believers "consider the cost" of becoming His disciple. Why is this important? When you are witnessing to an unsaved friend, do you point out that being a follower of Jesus requires one to "carry his own cross"? Why or Why not? Does your church include this teaching in their evangelism program?
14 aprile 2014
The Hymn Society: New Hymn Texts
ANIMA CHRISTI -
LATIN AND ENGLISH TEXT:
Posted By: Rusty Edwards and Jenni Lee Boyden <hymnstar@bellsouth.net>
Date: Tuesday, 8 August 2006
Here is a new hymn paraphrase of ANIMA CHRISTI,
a frequently used post-communion prayer especially in the Roman Catholic church. The original prayer was once thought to have been written by St. Ignatius Loyola. While he didn't write it, it was a favorite of his. For now, you can sing the new paraphrase hymn to the tune of "Let all Mortal Flesh Keep Silence," but it will later be published with a new tune.
Soul of Jesus Christ, make me holy,
Body of the Lamb, save me.
Blood of Christ make cheerful my spirit.
Water from your side, make me clean.
Passion, lend me strength, help me prepare.
Blessed Jesus, hear my prayer.
Deep within your wounds, you can hide me.
Never let us be apart.
From the wicked one, Christ protect me.
At the hour of death, call my heart.
Passion, lend me strength, help me prepare.
Blessed Jesus, hear my prayer.
When you call please guide me to heaven,
that with all your saints, I can be.
So that I may praise you forever.
May your Sacred Heart set me free.
Passion, lend me strength, help me prepare.
Blessed Jesus, hear my prayer.
(c) 2006 Jenni Lee Boyden and Rusty Edwards
June, 2006 Pecos Benedictine Monastery, New Mexico
THE LATIN POETS AND HYMNS.
The poets of this period, Prudentius excepted, are all clergymen, and the best are eminent theologians whose lives and labors have their more appropriate place in other parts of this work.
Hilary, bishop of Poitiers (hence Pictaviensis, † 368), the Athanasius of the West in the Arian controversies, is, according to the testimony of Jerome,1253 the first hymn writer of the Latin church. During his exile in Phrygia and in Constantinople, he became acquainted with the Arian hymns and was incited by them to compose, after his return, orthodox hymns for the use of the Western church. He thus laid the foundation of Latin hymnology. He composed the beautiful morning hymn: "Lucis largitor splendide;" the Pentecostal hymn: "Beata nobis gaudia;" and, perhaps, the Latin reproduction of the famous Gloria in excelsis. The authorship of many of the hymns ascribed to him is doubtful, especially those in which the regular rhyme already appears, as in the Epiphany hymn:
"Jesus refulsit omnium
Pius redemptor gentium."
We give as a specimen a part of the first three stanzas of his morning hymn, which has been often translated into German and English:1254
"Lucis largitor splendide,
"O glorious Father of the light,
Cuius serene lumine
From whose efflugence, calm and bright,
Post lapsa noctis tempora
Soon as hours of night are fled,
Dies refusus panditur:
The brilliance of the dawn is shed:
"To verus mundi Lucifer,
"Thou art the dark world's truer ray:
Non is, qui parvi sideris,
No radiance of that lesser day,
Venturae lucis nuntius
That heralds, in the morn begun,
Augusto fulget lumine:
The advent of our darker sun:
"Sed toto sole clarior,
"But, brighter than its noontide gleam,
Lux ipse totus et dies,
Thyself full daylight's fullest beam,
Interna nostri pectoris
The inmost mansions of our breast
Illuminans praecordia."
Thou by Thy grace illuminest."
Ambrose, the illustrious bishop of Milan, though some-what younger († 397), is still considered, on account of the number and value of his hymns, the proper father of Latin church song, and became the model for all successors. Such was his fame as a hymnographer that the words Ambrosianus and hymnus were at one time nearly synonymous. His genuine hymns are distinguished for strong faith, elevated but rude simplicity, noble dignity, deep unction, and a genuine churchly and liturgical spirit. The rhythm is still irregular, and of rhyme only imperfect beginnings appear; and in this respect they certainly fall far below the softer and richer melodies of the middle age, which are more engaging to ear and heart. They are an altar of unpolished and unhewn stone. They set forth the great objects of faith with apparent coldness that stands aloof from them in distant adoration; but the passion is there, though latent, and the fire of an austere enthusiasm burns beneath the surface. Many of them have, in addition to their poetical value, a historical and theological value as testimonies of orthodoxy against Arianism.1255
Of the thirty to a hundred so-called Ambrosian hymns,1256 however, only twelve, in the view of the Benedictine editors of his works, are genuine; the rest being more or less successful imitations by unknown authors. Neale reduces the number of the genuine Ambrosian hymns to ten, and excludes all which rhyme regularly, and those which are not metrical. Among the genuine are the morning hymn: "Aeterne rerum conditor;"1257 the evening hymn: "Deus creator omnium;"1258 and the Advent or Christmas hymn: "Veni, Redemptor gentium." This last is justly considered his best. It has been frequently reproduced in modern languages,1259 and we add this specimen of its matter and form with an English version:
"Veni, Redemptor gentium,
"Come, Thou Redeemer of the earth,
Ostende partum Virginis;
Come, testify Thy Virgin Birth:
Miretur omne saeculum:
All lands admire—all times applaud:
Talis partus decet Deum.
Such is the birth that fits a God.
"Non ex virili semine,
"Begotten of no human will,
Sed mystico spiramine,
But of the Spirit, mystic still,
Verbum Dei factum est caro,
The Word of God, in flesh arrayed,
Fructusque ventris floruit.
The promised fruit to man displayed.
"Alvus tumescit Virginis,
"The Virgin womb that burden gained
Claustrum pudoris permanet,
With Virgin honor all unstained
Vexilla virtutum micant,
The banners there of virtues glow:
Versatur in templo Deus.
God in His Temple dwells below.
"Procedit e thalamo suo,
"Proceeding from His chamber free,
Pudoris aulâ regiâ,
The royal hall of chastity,
Geminae Gigas substantiae,
Giant of twofold substance, straight
Alacris ut currat viam.1260
His destined way He runs elate.
"Egressus ejus a Patre,
"From God the Father He proceeds,
Regressus ejus ad Patrem,
To God the Father back He speeds:
Excursus usque ad inferos
Proceeds—as far as very hell:
Recursus ad sedem Dei.
Speeds back—to light ineffable.
"Aequalis aeterno Patri,
"O equal to the Father, Thou!
Carnis tropaeo1261 cingere,
Gird on Thy fleshly trophy (mantle) now
Infirma nostri corporis
The weakness of our mortal state
Virtute firmans perpeti.
With deathless might invigorate.
"Praesepe jam fulget tuum,
"Thy cradle here shall glitter bright,
Lumenque nox spirat novum,
And darkness breathe a newer light,
Quod nulla nox interpolet,
Where endless faith shall shine serene,
Fideque jugi luceat."
And twilight never intervene."
By far the most celebrated hymn of the Milanese bishop, which alone would have made his name immortal, is the Ambrosian doxology, Te Deum laudamus. This, with the Gloria in excelsis, is, as already remarked, by far the most valuable legacy of the old Catholic church poetry; and will be prayed and sung with devotion in all parts of Christendom to the end of time. According to an old legend, Ambrose composed it on the baptism of St. Augustine, and conjointly with him; the two, without preconcert, as if from divine inspiration, alternately singing the words of it before the congregation. But his biographer Paulinus says nothing of this, and, according to later investigations, this sublime Christian psalm is, like the Gloria in excelsis, but a free reproduction and expansion of an older Greek hymn in prose, of which some constituents appear in the Apostolic Constitutions, and elsewhere.1262
Ambrose introduced also an improved mode of singing in Milan, making wise use of the Greek symphonies and antiphonies, and popular melodies. This Cantus Ambrosianus, or figural song, soon supplanted the former mode of reciting the Psalms and prayers in monotone with musical accent and little modulation of the voice, and spread into most of the Western churches as a congregational song. It afterwards degenerated, and was improved and simplified by Gregory the Great, and gave place to the so-called Cantus Romanus, or choralis.
Augustine, the greatest theologian among the church fathers († 430), whose soul was filled with the genuine essence of poetry, is said to have composed the resurrection hymn: "Cum rex gloriae Christus;" the hymn on the glory of paradise: "Ad perennis vitae fontem melis sitivit arida;" and others. But he probably only furnished in the lofty poetical intuitions and thoughts which are scattered through his prose works, especially in the Confessions, the materia carminis for later poets, like Peter Damiani, bishop of Ostia, in the eleventh century, who put into flowing verse Augustine's meditations on the blessedness of heaven.1263 Damasus, bishop of Rome († 384), a friend of Jerome, likewise composed some few sacred songs, and is considered the author of the rhyme.1264
Coelius Sedulius, a native of Scotland or Ireland, presbyter in the first half of the fifth century, composed the hymns: "Herodes, hostis impie," and "A solis ortus cardine," and some larger poems.
Marcus Aurelius Clemens Prudentius († 405), an advocate and imperial governor in Spain under Theodosius, devoted the last years of his life to religious contemplation and the writing of sacred poetry, and stands at the head of the more fiery and impassioned Spanish school. Bently calls him the Horace and Virgil of Christians, Neale, "the prince of primitive Christian poets." Prudentius is undoubtedly the most gifted and fruitful of the old Catholic poets. He was master of the classic measure, but admirably understood how to clothe the new ideas and feelings of Christianity in a new dress. His poems have been repeatedly edited.1265 They are in some cases long didactic or epic productions in hexameters, of much historical value;1266 in others, collections of epic poems, as the Cathemerinon,1267 and Peristephanon.1268 Extracts from the latter have passed into public use. The best known hymns of Prudentius are: "Salvete, flores martyrum," in memory of the massacred innocents at Bethlehem,1269 and his grand burial hymn: "Jam moesta quiesce querela," which brings before us the ancient worship in deserts and in catacombs, and of which Herder says that no one can read it without feeling his heart moved by its touching tones.1270
We must mention two more poets who form the transition from the ancient Catholic to mediaeval church poetry.
Venantius Fortunatus, an Italian by birth, a friend of queen Radegunde (who lived apart from her husband, and presided over a cloister), the fashionable poet of France, and at the time of his death (about 600), bishop of Poitiers, wrote eleven books of poems on various subjects, an epic on the life of St. Martin of Tours, and a theological work in vindication of the Augustinian doctrine of divine grace. He was the first to use the rhyme with a certain degree of mastery and regularity, although with considerable license still, so that many of his rhymes are mere alliterations of consonants or repetitions of vowels.1271 He first mastered the trochaic tetrameter, a measure which, with various modifications, subsequently became the glory of the mediaeval hymn. Prudentius had already used it once or twice, but Fortunatus first grouped it into stanzas. His best known compositions are the passion hymns: "Vexilla regis prodeunt," and "Pange, lingua, gloriosi proelium (lauream) certaminis," which, though not without some alterations, have passed into the Roman Breviary.1272 The "Vexilla regis" is sung on Good Friday during the procession in which the consecrated host is carried to the altar. Both are used on the festivals of the Invention and the Elevation of the Cross.1273 The favorite Catholic hymn to Mary: "Ave maris stella,"1274 is sometimes ascribed to him, but is of a much later date.
We give as specimens his two famous passion hymns, which were composed about 580.
Vexilla Regis Prodeunt.1275
"Vexilla regis prodeunt,
"The Royal Banners forward go:
Fulget crucis mysterium,
The Cross shines forth with mystic glow:
Quo carne carnis conditor
Where He in flesh, our flesh who made,
Suspensus est patibulo.1276
Our sentence bore, our ransom paid.
"Quo vulneratus insuper
"Where deep for us the spear was dyed,
Mucrone diro lanceae,
Life's torrent rushing from His side:
Ut nos lavaret crimine
To wash us in the precious flood,
Manavit unda et sanguine.
Where mingled water flowed, and blood.
"Impleta sunt quae concinit
Fulfilled is all that David told
David fideli carmine
In true prophetic song of old:
Dicens: in nationibus
Amidst the nations, God, saith he,
Regnavit a ligno Deus.
Hath reigned and triumphed from the Tree.
"Arbor decora et fulgida
"O Tree of Beauty! Tree of Light!
Ornata regis purpura,
O Tree with royal purple dight!
Electa digno stipite
Elect upon whose faithful breast
Tam sancta membra tangere.
Those holy limbs should find their rest!
"Beata cuius brachiis
"On whose dear arms, so widely flung,
Pretium pependit saeculi,
The weight of this world's ransom hung
Statera facta saeculi
The price of human kind to pay,
Praedamque tulit tartaris."1277
And spoil the spoiler of his prey!"
Pange, Lingua, Gloriosi Proelium Certaminis.1278
"Sing, my tongue, the glorious battle,1279 with completed victory rife,
And above the Cross's trophy, tell the triumph of the strife;
How the world's Redeemer conquer'd, by surrendering of His life.
"God, his Maker, sorely grieving that the first-born Adam fell,
When he ate the noxious apple, whose reward was death and hell,
Noted then this wood, the ruin of the ancient wood to quell.
"For the work of our Salvation needs would have his order so,
And the multiform deceiver's art by art would overthrow;
And from thence would bring the medicine whence the venom of the foe.
"Wherefore, when the sacred fulness of the appointed time was come,
This world's Maker left His Father, left His bright and heavenly home,
And proceeded, God Incarnate, of the Virgin's holy womb.
"Weeps the Infant in the manger that in Bethlehem's stable stands;
And His limbs the Virgin Mother doth compose in swaddling bands,
Meetly thus in linen folding of her God the feet and hands.
"Thirty years among us dwelling, His appointed time fulfilled,
Born for this, He meets His Passion, for that this He freely willed:
On the Cross the Lamb is lifted, where His life-blood shall be spilled.
"He endured the shame and spitting, vinegar, and nails, and reed;
As His blessed side is opened, water thence and blood proceed:
Earth, and sky, and stars, and ocean, by that flood are cleansed indeed.
"Faithful Cross! above all other, one and only noble Tree!
None in foliage, none in blossom, none in fruit thy peers may be;
Sweetest wood and sweetest iron, sweetest weight is hung on thee!1280
"Bend thy boughs, O Tree of Glory! thy relaxing sinews bend;
For awhile the ancient rigor, that thy birth bestowed, suspend;
And the King of heavenly beauty on thy bosom gently tend.
"Thou alone wast counted worthy this world's ransom to uphold;
For a shipwreck'd race preparing harbor, like the Ark of old:
With the sacred blood anointed from the wounded Lamb that roll'd.
"Laud and honor to the Father, laud and honor to the Son,
Laud and honor to the Spirit, ever Three and ever One:
Consubstantial, co-eternal, while unending ages run.
Far less important as a poet is Gregory I. (590–604), the last of the fathers and the first of the mediaeval popes. Many hymns of doubtful origin have been ascribed to him and received into the Breviary. The best is his Sunday hymn: "Primo dierum omnium."1281
The hymns are the fairest flowers of the poetry of the ancient church. But besides them many epic and didactic poems arose, especially in Gaul and Spain, which counteracted the invading flood of barbarism, and contributed to preserve a connection with the treasures of the classic culture. Juvencus, a Spanish presbyter under Constantine, composed the first Christian epic, a Gospel history in four books (3,226 lines), on the model of Virgil, but as to poetic merit never rising above mediocrity. Far superior to him is Prudentius († 405); he wrote, besides the hymns already mentioned, several didactic, epic, and polemic poems. St. Pontius Paulinus, bishop of Nola († 431), who was led by the poet Ausonius to the mysteries of the Muses,1282 and a friend of Augustine and Jerome, is the author of some thirty poems full of devout spirit; the best are those on the festival of S. Felix, his patron. Prosper Aquitanus († 460), layman, and friend of Augustine, wrote a didactic poem against the Pelagians, and several epigrams; Avitus, bishop of Vienne († 523), an epic on the creation and the origin of evil; Arator, a court official under Justinian, afterwards a sub-deacon of the Roman church (about 544), a paraphrase, in heroic verse, of the Acts of the Apostles, in two books of about 1,800 lines. Claudianus Mamertus,1283Benedictus Paulinus, Elpidius, Orontius, and Draconti
12 aprile 2014
SAINT AUGUSTINE EXPOSITION ON PSALM 57 (his Psalm is singing of the Passion of the Lord)
1. We have heard in the Gospel just now, brethren, how loves us our Lord and Saviour Jesus Christ, God with the Father, Man with us, out of our own selves, now at the right hand of the Father; you have heard how much He loves us....
2. Because then this Psalm is singing of the Passion of the Lord, see what is the title that it has: at the end. The end is Christ. Romans 10:4 Why has He been called end? Not as one that consumes, but one that consummates.
3. At the end, corrupt not, for David himself, for the inscription of the title; when he fled from the face of Saul into a cavern. We referring to holy Scripture, do find indeed how holy David, that king of Israel, from whom too the Psalter of David has received the name thereof, had suffered for persecutor Saul the king of his own people, as many of you know that have either read or have heard the Scriptures. King David had then for persecutor Saul: and whereas the one was most gentle, the other most ferocious: the one mild, the other envious; the one patient, the other cruel; the one beneficent, the other ungrateful: he endured him with so much mildness, that when he had gotten him into his hands him he touched not, hurt not.. ..What reference has this to Christ? If all things which then were being done, were figures of things future, we find there Christ, and by far in the greatest degree. For this, corrupt not for the inscription of the title, I see not how it belongs to that David. For not any title was inscribed over David himself which Saul would corrupt. But we see in the Passion of the Lord that there had been written a title, King of the Jews: in order that this title might put to the blush these very men, seeing that from their King they withheld not their hands. For in them Saul was, in Christ David was. For Christ, as says the Apostolic Gospel, is, as we know, as we confess, of the seed of David after the flesh; for after the Godhead He is above David, above all men, above heaven and earth, above angels, above all things visible and invisible....And because already it had been sung through the Holy Spirit, Unto the end, corrupt not, for the inscription of the title: Pilate answered them, What I have written, I have written: John 19:22 why do ye suggest to me falsehood? I corrupt not truth.
4. What therefore is, When he fled from the face of Saul into a cavern? Which thing indeed the former David also did: but because in him we find not the inscription of the title, in the latter let us find the flight into the cavern. 1 Samuel 24:3 For that cavern wherein David hid himself did figure somewhat. But wherefore hid he himself? It was in order that he might be concealed and not be found. What is to be hidden in a cavern? To be hidden in earth. For he that flees into a cavern, with earth is covered so that he may not be seen. But Jesus did carry earth, flesh which He had received from earth: and in it He concealed Himself, in order that by Jews He might not be discovered as God. For if they had known, never the Lord of glory would they have crucified. 1 Corinthians 2:8 Why therefore the Lord of glory found they not? Because in a cavern He had hidden Himself, that is, the flesh's weakness to their eyes He presented, but the Majesty of the Godhead in the body's clothing, as though in a hiding-place of the earth, He hid....But wherefore even unto death willed He to be patient? It was in order that He might flee from the face of Saul into a cavern. For a cavern may be understood as a lower part of the earth. And certainly, as is manifest and certain to all, His Body in a Tomb was laid, which was cut in a Rock. This Tomb therefore was the Cavern; there He fled from the face of Saul. For so long the Jews did persecute Him, even until He was laid in a cavern. Whence prove we that so long they persecuted Him, until therein He was laid? Even when dead, and, on the Cross hanging, with lance they wounded Him. John 19:34 But when shrouded, the funeral celebrated, He was laid in a cavern, no longer had they anything which to the Flesh they might do. Rose therefore the Lord again out of that cavern unhurt, uncorrupt, from that place whither He had fled from the face of Saul: concealing Himself from ungodly men, whom Saul prefigured, but showing Himself to His members. For the members of Him rising again by His members were handled: for the members of Him, the Apostles, touched Him rising again and believed; Luke 24:39 and behold nothing profited the persecution of Saul. Hear we therefore now the Psalm; because concerning the title thereof enough we have spoken, as far as the Lord has deigned to give.
5. Have pity on me, O God, have pity on me, for in You has trusted my Soul Psalm 56:1. Christ in the Passion says, Have pity on Me, O God. To God, God says, Have pity on Me! He that with the Father has pity on you, in you cries, Have pity on Me. For that part of Him which is crying, Have pity on Me, is yours: from you this He received, for the sake of you, that you should be delivered, with Flesh He was clothed. The flesh itself cries: Have pity on Me, O God, have pity on me: Man himself, soul and flesh. For whole Man did the Word take upon Him, and whole Man the Word became. Let it not therefore be thought that there Soul was not, because the Evangelist thus says: The Word was made flesh, and dwelled in us. John 1:14 For man is called flesh, as in another place says the Scripture, And all flesh shall see the salvation of God. Shall anywise flesh alone see, and shall Soul not be there?...You hear the Master praying, learn thou to pray. For to this end He prayed, in order that He might teach how to pray: because to this end He suffered, in order that He might teach how to suffer; to this end He rose again, in order that He might teach how to hope for rising again. And in the shadow of Your wings I will hope, until iniquity pass over. This now evidently whole Christ does say: here is also our voice. For not yet has passed over, still rife is iniquity. And in the end our Lord Himself said there should be an abounding of iniquity: And since iniquity shall abound, the love of many shall wax cold; but he that shall have persevered unto the end, the same shall be saved. Matthew 24:12 But who shall persevere even unto the end, even until iniquity pass over? He that shall have been in the Body of Christ, he that shall have been in the members of Christ, and from the Head shall have learned the patience of persevering. Thou passest away, and behold passed are your temptations; and you go into another life whither have gone holy men, if holy you have been. Into another life have gone Martyrs; if Martyr you shall have been, you also go into another life. Because you have passed away hence, has by any means iniquity therefore passed away? There are born other unrighteous men, as there die some unrighteous men. In like manner therefore as some unrighteous men die and others are born: so some just men go, and others are born. Even unto the end of the world neither iniquity will be wanting to oppress, nor righteousness to suffer....
6. I will cry to God most high Psalm 56:2. If most high He is, how hears He you crying? Confidence has been engendered by experience: to God, he says, who had done good to me. If before that I was seeking Him, He did good to me, when I cry shall He not hearken to me? For good to us the Lord God has done in sending to us our Saviour Jesus Christ, that He might die for our offenses, and rise again for our justification. Romans 4:25 For what sort of men has He willed His Son to die? For ungodly men. But ungodly men were not seeking God, and have been sought of God. For He is Most High in such sort, as that not far from Him is our misery and our groaning: because near is the Lord to them that have bruised the heart. God that has done good to me.
7. He has sent from heaven and has saved me Psalm 56:3. Now the Man Himself, now the Flesh Itself, now the Son of God after His partaking of ourselves, of Him it is manifest, how He was saved, and has sent from heaven the Father and has saved Him, has sent from heaven, and has raised Him again: but in order that you may know, that also the Lord Himself has raised again Himself; both truths are written in Scripture, both that the Father has raised Him again, and that Himself Himself has raised again. Hear ye how the Father has raised Him again: the Apostle says, He has been made, he says, obedient unto death, even the death of the Cross: wherefore God also has exalted Him, and has given Him a name which is above every name. Philippians 2:8-9 You have heard of the Father raising again and exalting the Son; hear ye how that He too Himself His flesh has raised again. Under the figure of a temple He says to the Jews, Destroy this Temple, and in three days I will raise it up. John 2:19 But the Evangelist has explained to us what it was that He said: But this, he says, He spoke of the Temple of His Body. Now therefore out of the person of one praying, out of the person of a man, out of the person of the flesh, He says, He has saved me. He has given unto reproach those that trampled on me. Them that have trampled on Him, that over Him dead have insulted, that Him as though man have crucified, because God they perceived not, them He has given unto reproach. See ye whether it has not been so done. The thing we do not believe as yet to come, but fulfilled we acknowledge it. The Jews raged against Christ, they were overbearing against Christ. Where? In the city of Jerusalem. For where they reigned, there they were puffed up, there their necks they lifted up. After the Passion of the Lord thence they were rooted out; and they lost the kingdom, wherein Christ for King they would not acknowledge. In what manner they have been given unto reproach, see ye: dispersed they have been throughout all nations, nowhere having a settlement, nowhere a sure abode. But for this reason still Jews they are, in order that our books they may carry to their confusion. For whenever we wish to show Christ prophesied of, we produce to the heathen these writings. And lest perchance men hard of belief should say that we Christians have composed these books, so that together with the Gospel which we have preached we have forged the Prophet, through whom there might seem to be foretold that which we preach: by this we convince them; namely, that all the very writings wherein Christ has been prophesied are with the Jews, all these very writings the Jews have. We produce documents from enemies, to confound other enemies. In what sort of reproach therefore are the Jews? A document the Jew carries, wherefrom a Christian may believe. Our librarians they have become, just as slaves are wont behind their masters to carry documents, in such sort that these faint in carrying, those profit by reading. Unto such a reproach have been given the Jews: and there has been fulfilled that which so long before has been foretold, He has given unto reproach those that trampled on me. But how great a reproach it is, brethren, that this verse they should read, and themselves being blind should look upon their mirror! For in the same manner the Jews appear in the holy Scripture which they carry, as appears the face of a blind man in a mirror: by other men it is seen, by himself not seen.
8. You were inquiring perhaps when he said, He has sent from heaven and has saved me. What has He sent from heaven? Whom has He sent from heaven? An Angel has He sent, to save Christ, and through a servant is the Lord saved? For all Angels are creatures serving Christ. For obedience there might have been sent Angels, for service they might have been sent, not for succour: as is written, Angels ministered unto Him, Matthew 4:11 not like men merciful to one indigent, but like subjects to One Omnipotent. What therefore has He sent from heaven, and has saved me? Now we hear in another verse what from heaven He has sent. He has sent from heaven His mercy and His truth. For what purpose? And has drawn out my soul from the midst of the lions' cubs. Hath sent, he says, from heaven His mercy and His truth: and Christ Himself says, I am Truth. There was sent therefore Truth, that it should draw out my soul hence from the midst of the lions' whelps: there was sent mercy. Christ Himself we find to be both mercy and truth; mercy in suffering with us, and truth in requiting us....Who are the lions' whelps? That lesser people, unto evil deceived, unto evil led away by the chiefs of the Jews: so that these are lions, those lions' whelps. All roared, all slew. For we are to hear even here the slaying of these very men, presently in the following verses of this Psalm.
9. And has drawn out, he says, my soul from the midst of the lions' whelps Psalm 56:4. Why do you say, And has drawn out my soul? For what had you suffered, that your soul should be drawn out? I have slept troubled. Christ has intimated His death....
10. Whence troubled? Who troubling? Let us see in what manner he brands an evil conscience upon the Jews, wishing to excuse themselves of the slaying of the Lord. For to this end, as the Gospel speaks, to the judge they delivered Him, that they might not themselves seem to have killed Him....Let us question Him, and say, since You have slept troubled, who have persecuted You? Who have slain You? Was it perchance Pilate, who to soldiers gave You, on the Tree to be hanged, with nails to be pierced? Hear who they were, Sons of men Psalm 56:5. Of them He speaks, whom for persecutors He suffered. But how did they slay, that steel bare not? They that sword drew not, that made no assault upon Him to slay; whence slew they? Their teeth are arms and arrows, and their tongue a sharp sword. Do not consider the unarmed hands, but the mouth armed: from thence the sword proceeded, wherewith Christ was to be slain: in like manner also as from the mouth of Christ, that wherewith the Jews were to be slain. For He has a sword twice whetted: Revelation 1:16 and rising again He has smitten them, and has severed from them those whom He would make His faithful people. They an evil sword, He a good sword: they evil arrows, He good arrows. For He has Himself also arrows good, words good, whence He pierces the faithful heart, in order that He may be loved. Therefore of one kind are their arrows, and of another kind their sword. Sons of men, their teeth are arms and arrows, and their tongue a sharp sabre. Tongue of sons of men is a sharp sabre, and their teeth arms and arrows. When therefore did they smite, save when they clamoured, Crucify, crucify?
11. And what have they done to You, O Lord? Let the Prophet here exult! For above, all those verses the Lord was speaking: a Prophet indeed, but in the person of the Lord, because in the Prophet is the Lord....Be exalted, he says, above the Heavens, O God. Man on the Cross, and above the Heavens, God. Let them continue on the earth raging, Thou in Heaven be judging. Where are they that were raging? Where are their teeth, the arms and arrows? Have not the stripes of them been made the arrows of infants? For in another place a Psalm this says, desiring to prove them vainly to have raged, and vainly unto frenzies to have been driven headlong: for nothing they were able to do to Christ when for the time crucified, and afterwards when He was rising again, and in Heaven was sitting. How do infants make to themselves arrows? Of reeds? But what arrows? Or what powers? Or what bows? Or what wound? Be Thou exalted above the Heavens, O God, and above all the earth Your glory Psalm 56:6. Wherefore exalted above the Heavens, O God? Brethren, God exalted above the Heavens we see not, but we believe: but above all the earth His glory to be not only we believe, but also see. But what kind of madness heretics are afflicted with, I pray you observe. They being cut off from the bond of the Church of Christ, and to a part holding, the whole losing, will not communicate with the whole earth, where is spread abroad the glory of Christ. But we Catholics are in all the earth, because with all the world we communicate, wherever the Glory of Christ is spread abroad. For we see that which then was sung, now fulfilled. There has been exalted above the Heavens our God, and above all the earth the Glory of the Same. O heretical insanity! That which you see not you believe with me, that which you see you deny; you believe with me in Christ exalted above the Heavens, a thing which we see not; and deniest His Glory over all the earth, a thing which we see.
12. ...Let your Love see the Lord speaking to us, and exhorting us by His example: A trap they have prepared for My feet, and have bowed down My Soul Psalm 56:7. They wished to bring It down as if from Heaven, and to the lower places to weigh It down: They have bowed My Soul: they have dug before My face a pit and themselves have fallen into it. Me have they hurt, or themselves? Behold He has been exalted above the Heavens, God, and behold above all the earth the Glory of the Same: the kingdom of Christ we see, where is the kingdom of the Jews? Since therefore they did that which to have done they ought not, there has been done in their case that which to have suffered they ought: themselves have dug a ditch, and themselves have fallen into it. For their persecuting Christ, to Christ did no hurt, but to themselves did hurt. And do not suppose, brethren, that themselves alone has this befallen. Every one that prepares a pit for his brother, it must needs be that himself fall into it....
13. But the patience of good men with preparation of heart accepts the will of God: and glories in tribulations, saying that which follows: Prepared is my heart, O God, I will sing and play Psalm 56:8. What has he done to me? He has prepared a pit, my heart is prepared. He has prepared pit to deceive, shall I not prepare heart to suffer? He has prepared pit to oppress, shall I not prepare heart to endure? Therefore he shall fall into it, but I will sing and play. Hear the heart prepared in an Apostle, because he has imitated his Lord: We glory, he says, in tribulations: because tribulation works patience: patience probation, probation hope, but hope makes not ashamed: because the love of God is shed abroad in our hearts through the Holy Spirit, which has been given to us. Romans 5:3 He was in oppressions, in chains, in prisons, in stripes, in hunger and thirst, in cold and nakedness, 2 Corinthians 11:27 in every wasting of toils and pains, and he was saying, We glory in tribulations. Whence, but that prepared was his heart? Therefore he was singing and playing.
14. Rise up, my glory Psalm 56:9. He that had fled from the face of Saul into a cavern, says, Rise up, my glory: glorified be Jesus after His Passion. Rise up, psaltery and harp. He calls upon what to rise? Two organs I see: but Body of Christ one I see, one flesh has risen again, and two organs have risen. The one organ then is the psaltery, the other the harp. Organs is the word used for all instruments of musicians. Not only is that called an organ, which is great, and blown into with bellows; but whatsoever is adapted to playing and is corporeal, whereof for an instrument the player makes use, is said to be an organ. But distinguished from one another are these organs.. ..What therefore do these two organs figure to us? For Christ the Lord our God is waking up His psaltery and His harp; and He says, I will rise up at the dawn. I suppose that here ye now perceive the Lord rising. We have read thereof in the Gospel: Mark 16:2 see the hour of the Resurrection. How long through shadows was Christ being sought? He has shone, be He acknowledged; at the dawn He rose again. But what is psaltery? What is harp? Through His flesh two kinds of deeds the Lord has wrought, miracles and sufferings: miracles from above have been, sufferings from below have been. But those miracles which He did were divine; but through Body He did them, through flesh He did them. The flesh therefore working things divine, is the psaltery: the flesh suffering things human is the harp. Let the psaltery sound, let the blind be enlightened, let the deaf hear, let the paralytics be braced to strength, the lame walk, the sick rise up, the dead rise again; this is the sound of the Psaltery. Let there sound also the harp, let Him hunger, thirst, sleep, be held, scourged, derided, crucified, buried. When therefore you see in that Flesh certain things to have sounded from above, certain things from the lower part, one flesh has risen again, and in one flesh we acknowledge both psaltery and harp. And these two kinds of things done have fulfilled the Gospel, and it is preached in the nations: for both the miracles and the sufferings of the Lord are preached.
15. Therefore there has risen psaltery and harp in the dawn, and he confesses to the Lord; and says what? I will confess to You among the peoples, O Lord, and will play to You among the nations: for magnified even unto the Heavens has been Your mercy, and even unto the clouds Your truth Psalm 57:10. Heavens above clouds, and clouds below heavens: and nevertheless to this nearest heaven belong clouds. But sometimes clouds rest upon the mountains, even so far in the nearest air are they rolled. But a Heaven above there is, the habitations of Angels, Thrones, Dominions, Principalities, Powers. This therefore may perchance seem to be what should have been said: Unto the Heavens Your truth, and even unto the clouds Your mercy. For in Heaven Angels praise God, seeing the very form of truth, without any darkness of vision, without any admixture of unreality: they see, love, praise, are not wearied. There is truth: but here in our own misery surely there is mercy. For to a miserable one must be rendered mercy. For there is no need of mercy above, where is no miserable one. I have said this because that it seems as though it might have been more fittingly said, Magnified even unto the Heavens has been Your truth, and even unto the clouds Your mercy. For clouds we understand to be preachers of truth, men bearing that flesh in a manner dark, whence God both gleams in miracles, and thunders in precepts.. ..Glory to our Lord, and to the Mercy of the Same, and to the Truth of the Same, because neither has He forsaken by mercy to make us blessed through His Grace, nor defrauded us of truth: because first Truth veiled in flesh came to us and healed through His flesh the interior eye of our heart, in order that hereafter face to face we may be able to see It. 1 Corinthians 13:12 Giving therefore to Him thanks, let us say with the same Psalm the last verses, which sometime since too I have said, Be Thou exalted above the Heavens, O God, and above all the earth Your glory Psalm 57:11. For this to Him the Prophet said so many years before; this now we see; this therefore let us also say.